Match-making your dream job
What matters when picking your first job after graduate school?
Graduation season is coming up, which means that a lot of student are actively starting to look for a job. As part of that process there will be a lot of questions coming to the surface. What am I good at? What do I want to do? Where can I get paid well? Who should I work for? Which industry am I passionate about? All of these questions are important. However, I will argue that one particular question is more important than the others:
What are my values and do they match the values of the company?
There are several reasons why you should be asking yourself this question:
Joining a company is like joining a new family and you will get new brothers and sisters. Some will be annoying and others will be lovely. This is your opportunity to join a family that you care about.
You spend more time at work than you do with your companion. Make it count.
If you are not passionate about what you do, you will never do a good job. This will affect the company and it will eventually affect your continues career.
Your life is short! Why waste time working on something that doesn't matter to you.
To help you map the companies that match your values I have created a simple model.
I have chosen to call it: "The 3 Core Values Model"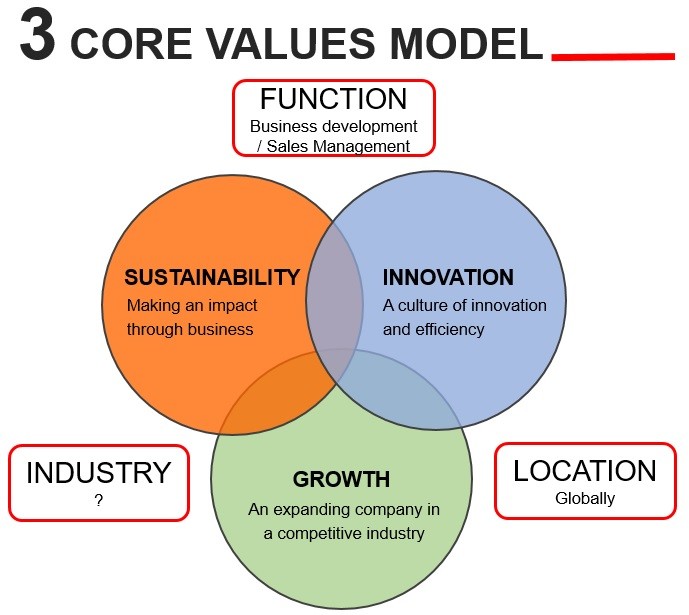 The model consist of six elements. 3 core values, job function, industry and location.
The 3 core values
The core values are the 3 values that matters the most to you. You must select 3 values that you really care about and which should serve you as a guideline for choosing the right employer. The rational for choosing 3 and not 4 or 5, is that it is important for you to focus. 3 stands for Past, Presence, Future. Birth, Life, Death. However, most importantly you must focus and narrow down what really matters to you.
Job Function
Narrowing down on your preferred job function is very important. Sadly too many graduate students, especially within business are not focused when applying for jobs. Because they are educated generalist, majority will apply to Marketing, Strategy, Finance, Communication, Operations and whatever course they studied in school. The lack of self-awareness affects your concentration and will come across as unprofessional with employers.
Industry
Selecting the right industry is similarly important for you to target your job search. If you know which industry you are really passionate about you can take on any job function and over time excel to become an executive manager of the firm.
Location
Location is for some really important and for other less. A lot of global companies' value mobility and international profiles do often have a wider variety of companies to select from.
These are my 3 core values that matter the most to me:
Sustainability – as I want to work for an organization that makes a positive impact in the world.
Innovation – as I want to surround myself around people that challenge the status quo and make changes in their industry.
Growth – as I want to accelerate my career and see greater opportunities to excel with a fast growing company.
Now it is your turn to customize the model to fit your values. It is important that you take the time to reflect and figure out what really matters to you. Maybe you are all about fame, money, or maybe you seek security. It is all about YOUR true values.